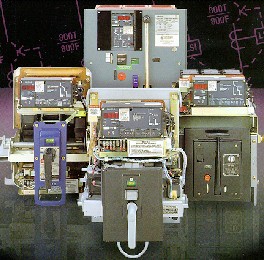 Maintaining proper coordination is critical to insure that any fault is isolated to the smallest possible area. Unfortunately, many legacy breakers are unable to provide proper protection due to:
Thermal-magnetic elements have aged and tolerance has shifted

Early electronic trip units were peak-sensing which can nuisance trip on modern systems due to harmonic currents
While you could replace the complete breaker or switchgear assembly, is their another way?
Trip Unit Retrofit of Most Existing Brands
Cutler-Hammer has developed an extensive library of trip unit replacement solutions for many brands of low voltage power breakers including:
Westinghouse

ITE

GE

Gould

Allis-Chalmers

GTE

Siemens Allis

Federal Pacific

Federal Pioneer

Roller-Smith

Brown-Boveri
While step-by-step instructions are available on this web site for replacing the original trip unit with a new Digitrip trip unit, we recommend that you contact your local CHESS represenative for evaluation and comment.