Payback Analysis
Technology is available that scans your electrical equipment and alerts you to an impending problem, giving you time to react before an unplanned outage occurs.
How do you know if you should invest in this technology? Would the technology pay for itself? How can you know?
Use this calculator to determine if installing predictive diagnostic equipment makes sense for your application. If you already know the cost of implementation and the amount of annual savings, you can use the ROI function to determine an equivalent rate of return (ROI or IRR). If you don't know these costs, just enter in the type of equipment installed and the calculator will determine if the amount of savings from reduced downtime justifies the cost of the predictive diagnostic equipment.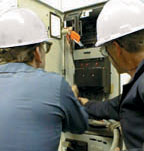 For the most detailed analysis, select only one type of equipment at a time and run the analysis. In general, the benefits of partial discharge technology decrease as you go down the list. In other words, the large liquid filled transformers are most likely to benefit from PD and cables are the lowest. However, this all depends on your cost of downtime. In some applications, loss of power means loss of life ($1 million / occurance), so installing equipment that can provide early warning of cable failure may be justified.
This version of the calculator only considers medium voltage equipment. (Medium voltage defined as greater than 1000 volts).
Instructions:
If you know the cost of the solution and the amount of savings and you want to solve for an equivalent ROI, use Calculator 1.
If you are not sure of the cost of the solution or the amount of the annual benefit, use Calculator 2.
---