Peak Shaving Evaluation Calculator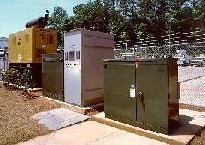 | | |
| --- | --- |
| | Does your energy consumption vary during the day? |
| | Are you paying over $10 per kW for electrical demand? |
| | Would you say that your energy consumption "spikes" to values higher-than-average during one or more times during the day? |
If so, you may be a candidate for on-site generation to supply a portion of your local electrical power. On-site (or distributed) generation can provide back up power during outages, but it can also provide power even if there is no outage. Why would you run a generator if there is no outage? You would when locally generated power is less expensive to produce than purchasing utility power.
Use this calculator to determine if distributed generation makes sense for your application.
---

Peak Shaving
Learn how a university converted existing an existing generator into a peak shaving system.
more...

Need Engineering Assistance?
We also provide services. Read more about CHESS and the range of services they provide.
more...
Predictive Diagnostics
Prevent an unexpected shutdown to anticipating where the next electrical failure will occur.
more...