Battery Life Calculator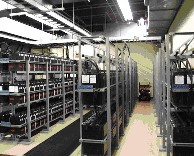 Batteries have a limited number of discharge-charge cycles before they lose capacity and must be replaced. For this reason, one attempts to minimize the number of times a battery system is called upon to support a load.
The problem is that periodic generator tests cause momentary outages and/or power disturbances that require the battery system to take over. Few realize that these tests cause such large reductions in battery life.
What do you do? Stop generator testing? You could, but that is unwise (and possibly against codes and standards). But without periodic testing you won't have the assurance that emergency generator power will be available when needed.
The solution is to use a special type of transfer switch called a "Soft-Load Transfer Switch".
Since Soft-Load transfer switches are more expensive than conventional open or closed transition switches, we must determine if their use is justified.
Use this calculator to determine if a Soft-Load transfer switch is justified. This calculator computes the relative reduction in battery system capacity based on how frequently a generator test is performed. This loss of battery life does not occur when using a Soft-Load transfer switch. Use this calculator to see if this recovered money more than pays for the difference in cost between a conventional transfer switch and a Soft-Load transfer switch.
---